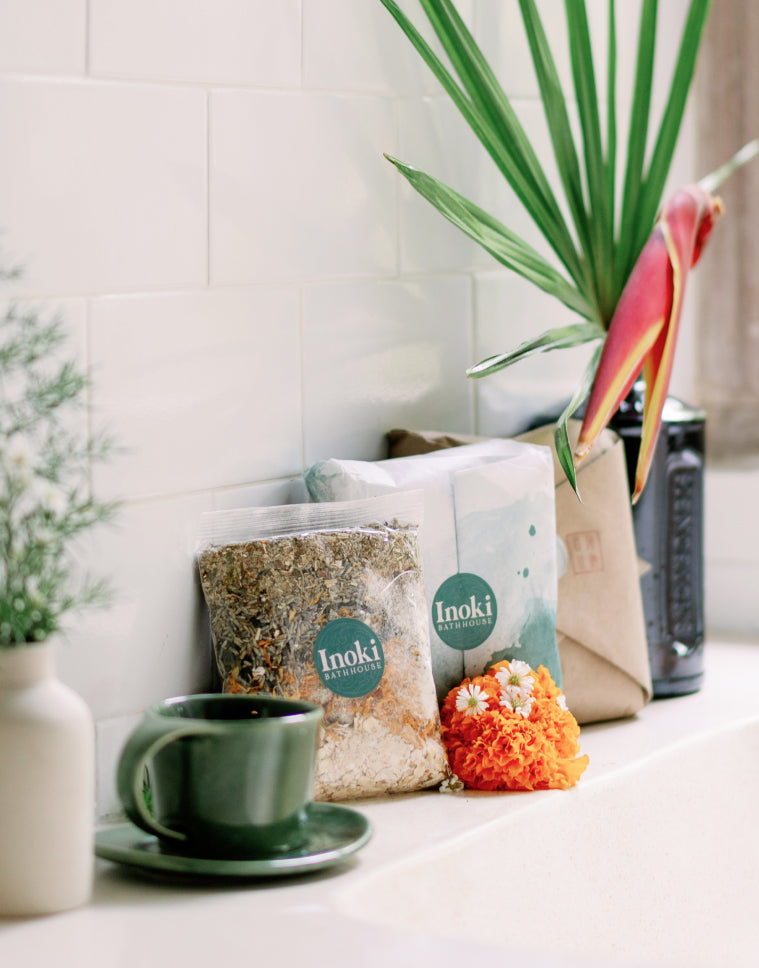 Mountain Fog - Deep Sleep & Muscle Relief
Description
Experience
Bath Blend (150g)
pH Test
The Luxury of a Taiwanese Bathhouse
Escape to a tranquil bathhouse atop a mountain enveloped in a gentle, milky fog. Allow the mugwort to relax your muscles and the dreamy scent of the oolong milk tea to free your mind. 

Our Mountain Fog experience includes our aromatic bath blend, steeping tea bath bag, and access to our curated playlist on Spotify.
The full kit includes our sweet and calming oolong milk tea, unscented candles, and ethically-sourced Ecuadorian palo santo.
Camellia Sinensis (Oolong Milk Tea), Organic Avena Sativa (Gluten-Free Oats*), Organic Cocos Nucifera Milk Powder (100% Pure Coconut Milk Powder), Artemisia Vulgaris (Mugwort), Organic Calendula officinalis (Calendula) Flowers, Lycium Ruthenicum (Black Goji Berries), Organic Lavandula Angustifolia (Lavender) Flowers
pH = 5.5 ± 0.2 (with handheld at-home pH test)
Mountain Fog - Deep Sleep & Muscle Relief
Deep Sleep & Muscle Relief
The Luxury of a Taiwanese Bathhouse
Curated Experience
Mountain Fog Bathhouse Blend
Our Mountain Fog bathhouse blend comes with an abundant amount of oolong milk tea and mugwort to ensure an aromatic and muscle-relaxing experience.
Oolong Milk Tea for Drinking
Our Mountain Fog Kit comes with 6g of aromatic Oolong Milk Tea (enough for an entire pot). Please note that we do not provide a strainer or tea bag - it's designed to be steeped over and over again.
Scentless Candles
Our kit comes comes with three unscented naked votive candles.
Palo Santo Stick
In every kit, we include a 100% sustainably and ethically-sourced Palo Santo Stick from Ecuador.
Palo Santo, also known as "Holy Wood - Tree of Life," is wood from a tree called Bursera Graveolens that grows in South America. It's been used for thousands of years by indigenous peoples to treat pain and stress, and clear negative energy - this is done through "purifying" the space.
Ecuador Palo Santo carries scents of vanilla, cinnamon, and coconut.
Custom Relaxation Playlist
Our curated relaxation playlist for our Mountain Fog Bathhouse features a wind-based relaxation sensory experience.
Hero Ingredients
Oolong Milk Tea
Oolong milk tea has calming and stress-reducing effects, and is known to help your skin glow from within, as it helps you sweat out the toxins and improve skin health. Additionally, oolong tea has anti-inflammatory properties that can reduce skin irritation, redness, and swelling.
Mugwort "Artemisia Vulgaris"
Mugwort has been used for centuries in Asia (both in traditional Chinese medicine and in Korea for medicinal purposes) to relieve pain, boost circulation, and heal the skin. Its anti-inflammatory properties heal sensitive, irritated and dry skin, and its abundance in Vitamin E relieves redness on the skin
Calendular Flowers
Organic calendula soothes your skin with its anti-inflammatory properties. It stimulates the skin's firmness and elasticity while functioning as a powerful antioxidant to protect against free radical damage.
Black Goji Berry (Wolf Berry)
Black Goji Berries are known in Chinese medicine to improve sleep, wellbeing, and calmness. Packed with antioxidants, minerals, and amino acids, goji berries help to improve skin tone and hydration.
Honey Powder
Honey is a natural skin cleanser and softener, as it attracts dirt from skin pores and dead skin cells from the surface of the skin. In addition, it has anti-inflammatory properties that can aid with skin conditions, such as acne. (85% Honey, 15% Maltodextrin)
Lavender Flowers
Organic lavender has anti-inflammatory properties that help calm the skin, and contains antioxidants that nourish the skin. Studies have shown the scent of lavender promotes sleep.
Coconut Milk Powder
Coconut milk's abundance of vitamin C restores moisture in the skin. It also improves the appearance of the skin by reducing redness and promoting skin's firmness and elasticity.
Gluten-Free Oats
Oats moisturize, restore the skin barrier, reduce itching, and regulate inflammation, which all can help in the recovery of the eczematous skin. In addition, oats act as a natural cleanser and exfoliator by removing dead skin cells to reveal brighter complexions.
Bath Benefits
What are the skin benefits?
This specific bath blend is rich in antioxidants, minerals, amino acids, and Vitamin E; possesses anti-aging and anti-Inflammatory properties; is soothing, calming, hydrating, and moisture-balancing for the skin.
What are the wellness benefits?
This specific bath reduces muscle tension, increases blood circulation (due to the Mugwort), provides an all-natural plant-powered aromatherapy experience, and supports deep mindy/body relaxation. Baths have also been scientifically proven to improve mental health.
Shipping Details
We ship biweekly
As a small business, we are doing our best to speed up our shipping process. At the moment, it takes us two weeks to fulfill your order and it may take 2-8 business days to reach you (these are estimated timelines).
Order tracking
All packages have tracking and you will receive an email with your tracking details once we fulfill your order.
Eco-conscious packaging
Our packaging is 100% recyclable and compostable. We use cardboard boxes, compostable tape, compostable shipping labels, and paper fillers.
Real Experiences Shared by Real People
"The best ritual you can give to yourself or your loved ones"
"I have to say since setting up my bath last week, I have not been able to shut up about this bath experience. It was truly heavenly. Everything is so intricately planned and intentionally thought out. The scents were heavenly. The milky smooth skin after, was unbelievable. The tea was the perfect after bath treat - and the playlists were an amazing touch. The time it takes to set up the bath may be lengthy, but its the perfect way to unwind before REALLY unwinding. It you're even considering purchase - just DO!"
- Sukiena A
Total 5 star reviews: 85
Total 4 star reviews: 5
Total 3 star reviews: 0
Total 2 star reviews: 0
Total 1 star reviews: 0
100%
would recommend this product
Customer-uploaded media carousel. Press left and right arrows to navigate. Press space or enter to open more details.
Slide 1 selected
TM

Concerns

Mental Health,

Restlessness,

Muscle Pain,

Sleep Challenges,

Sensitive to Smell

Pros of Inoki Experience

Improved Mental Well-Being,

Improved Emotional Well-Being,

Relieved Muscle Pain

Would Recommend to a Friend

Yes

Smells exactly how I remember waking up on misty mornings in the mountains of Virginia

So relaxing. And such a wonderfully curated experience. Even when I feel like I don't have a lot of time to relax, this bath really allows me to pause.

Inoki Bathhouse

8 months ago

Thank you so much for the review, Tracey 🥹💚 Your cat is ADORABLE 😭🌸

Concerns

Skin Sensitivity,

Mental Health

Pros of Inoki Experience

Improved Emotional Well-Being,

Improved Mental Well-Being,

Softer Skin

Would Recommend to a Friend

Yes

Completely Worth It

I really really enjoyed the whole bathhouse experience. I thought it might be a bit much with the required setup, but once I took the time to bring the supplies I needed to the bathroom, it was super simple and an amazing bath experience. I would definitely do it again!

Inoki Bathhouse

8 months ago

Thank you SO MUCH, Ashlee! I definitely understand the sentiment around it being a daunting experience at first. So grateful for you taking a chance on us to help you find deep relaxation. 🥰🥰🥰

Pros of Inoki Experience

Softer Skin,

Improved Mental Well-Being,

Improved Emotional Well-Being

Would Recommend to a Friend

Yes

Always a great experience

The packaging is so beautiful and makes it a special experience right from the start. The instructions are super straightforward. The included playlist is also a great touch. These bathhouse kits always make an ordinary bath feel like a luxury experience. This is my third kit and I'm really looking forward to my next.

Inoki Bathhouse

8 months ago

Wow, thank you SO MUCH for returning for a third time. Just wanted to let you know that as of today we upgrade the instructions app and added a meditation playlist to each experience. Thank you so much for supporting us, Morgan 🥹💚 Really appreciate you

J. Spencer H.

Verified Buyer

Concerns

Muscle Pain,

Sleep Challenges,

Joint Pain

Pros of Inoki Experience

Improved Sleep Quality,

Relieved Muscle Pain,

Softer Skin,

Improved Emotional Well-Being

Would Recommend to a Friend

Yes

Great way to treat yourself!

This entire experience was an amazing way to relax and ground myself after a very stressful year.

Inoki Bathhouse

8 months ago

So grateful for your review 💚 Thank you so much for trusting us to help you relax and ground after a stressful and exhausting year.

Brittany g.

Verified Buyer

Concerns

Mental Health,

Restlessness,

Sleep Challenges

Pros of Inoki Experience

Improved Mental Well-Being,

Improved Emotional Well-Being

Would Recommend to a Friend

Yes

Absolutely in Love

I enjoyed this experience to the max!

Inoki Bathhouse

8 months ago
Reviews Loaded
Reviews Added