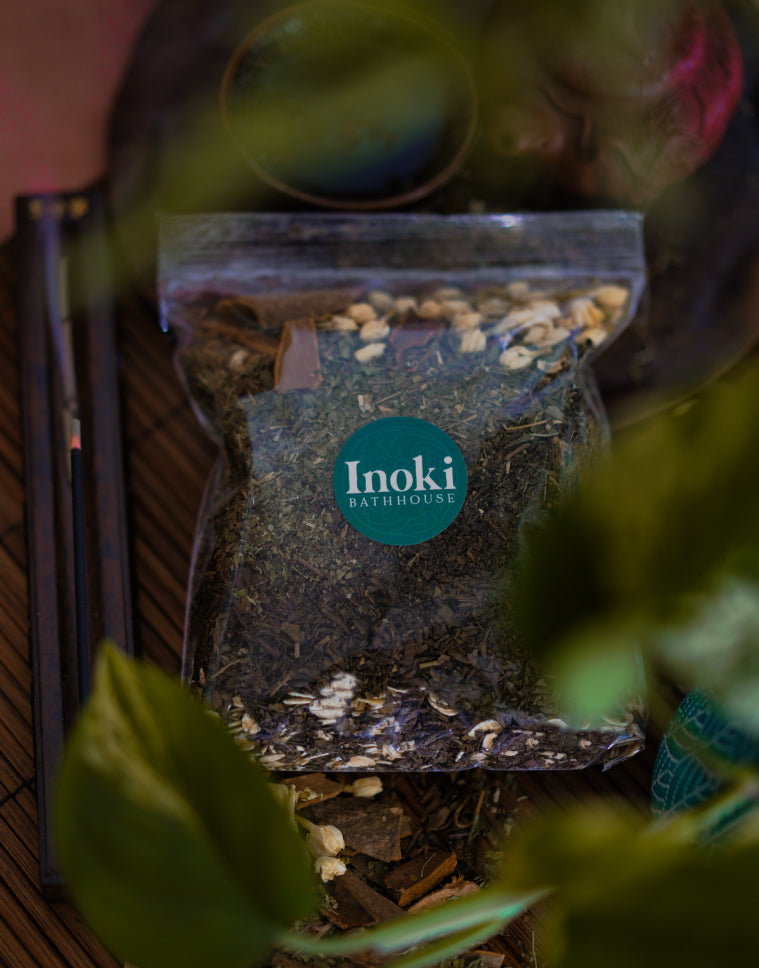 Description
Experience
Bath Blend
Transport to a rejuvenating bathhouse in a deep ancient forest continents away with our thoughtfully designed bath blend featuring Hojicha tea from Japan and our curated relaxation playlist on Spotify.

Our full Ancient Forest Bathhouse Kit experience includes our aromatic bath blend, roasted and soothing hojicha tea, unscented candles, forest-inspired hand-rolled incense sticks, and a curated relaxation playlist on Spotify.
The non-kit experience comes with our premium blend, pairing tea, and relaxation playlist.
Hojicha Tea, Organic Gluten-Free Oat, Organic Pure Moringa Leaves, Gotu Kola Leaves "Centella", Organic Moroccan Spearmint Leaves, Jasmine Flowers Whole, and Cinnamon Bark.
Transport to an Ancient Forest Bathhouse
Curated Experience
Ancient Forest Bathhouse Blend
Our Ancient Forest Bathhouse blend is our richest earth blend - with an abundant amount of hojicha tea from Japan, this blend is as aromatic as it is rich in antioxidants.
Hojicha Tea for Drinking
Each Ancient Forest Bathhouse comes with Hojicha Tea (enough for an entire pot). Please note that we do not provide a strainer or tea bag - it's designed to be steeped over and over again.
Scentless Candles
Our kit comes comes with three unscented naked votive candles.
Hand Rolled Incense Sticks
The kit experience includes a box of incense sticks for the post-bath experience. The incense sticks are made from the finest aromatic herbs, natural resins, rare woods, flowers of exquisite fragrance, aroma oils, and exotic spices.
Custom Relaxation Playlist
Our curated relaxation playlist for our Ancient Forest Bathhouse features a nature-based relaxation sensory experience.
Hero Ingredients
Hojicha Tea
Hojicha, a roasted green tea, contains a high level of antioxidants, which defend the skin against the free radicals, protect the skin from pollution and other factors. As a tea, it can ease symptoms of stress, depression, and anxiety.
Moringa Leaf
As a rich source of vitamin C and behenic acid, Moringa is a powerful herb used in skincare for its anti-aging properties. Studies have shown that Moringa has the potential to boost collagen, help reduce fine lines, wrinkles, and sagging skin.
Centella Asiatica
Centella offers potent antioxidants and amino acids that soothe upset and compromised skin, reduce redness, and improve hydration. In Chinese medicine, centella is known to clear inflammatory and infectious conditions.
Moroccan Spearmint
With an anti-bacterial property, spearmint does a magic job on skin cleansing. This ingredient also imparts a cooling sensation which helps relieve itching associated with dryness and skin irritations.
Jasmine Flowers
Jasmine helps restore skin lustre and balance moisture to naturally reduce dryness without clogging pores. Research suggests the aroma of jasmine has a relaxing effect by decreasing the autonomic nerve activity and heart rate.
Cinnamon Bark
Cinnamon is rich in plant compounds known as polyphenols, such as cinnamic acid, cinnamaldehyde, and various flavonoids. As a natural astringent, cinnamon bark helps to cleanse the skin.
Gluten-Free Oats
Oats moisturize, restore the skin barrier, reduce itching, and regulate inflammation, which all can help in the recovery of the eczematous skin. In addition, oats act as a natural cleanser and exfoliator by removing dead skin cells to reveal brighter complexions.
Bath Benefits
What are the skin benefits?
This specific bath blend is rich in antioxidants, minerals, amino acids, and Vitamin E; possesses anti-aging and anti-Inflammatory properties; is soothing, calming, hydrating, and moisture-balancing for the skin.
What are the wellness benefits?
This specific bath reduce muscle tension, increases blood circulation (due to the Mugwort), provides an all-natural plant-powered aromatherapy experience, and supports deep mindy/body relaxation. Baths have also been scientifically proven to improve mental health.
Shipping Details
We ship bi-weekly
As a small business, we are doing our best to speed up our shipping process. At the moment, it takes us two weeks to fulfill your order and it may take 2-8 business days to reach you (these are estimated timelines).
Order tracking
All packages have tracking and you will receive an email with your tracking details once we fulfill your order.
Eco-conscious packaging
Our packaging is 100% recyclable and compostable. We use cardboard boxes, compostable tape, compostable shipping labels, and paper fillers.
Real Experiences Shared by Real People
"Grounding, calming, and overall INCREDIBLE"
"You can tell that everything about this blend is so carefully thought out, and it comes together to make such an amazing experience. The smell was so earthy and grounding, and I felt probably the most relaxed I've felt in weeks. The incense is a nice touch that can also be enjoyed beyond the bath experience! I steeped the tea at 175 degrees and it was perfect, not bitter at all, and the perfect complement to the experience."
- Luba M
Total 5 star reviews: 26
Total 4 star reviews: 0
Total 3 star reviews: 0
Total 2 star reviews: 0
Total 1 star reviews: 0
100%
would recommend this product
Customer-uploaded media carousel. Press left and right arrows to navigate. Press space or enter to open more details.
Slide 1 selected
Concerns

Mental Health,

Muscle Pain

Pros of Inoki Experience

Relieved Muscle Pain,

Improved Mental Well-Being,

Improved Emotional Well-Being,

Improved Sleep Quality

Would Recommend to a Friend

Yes

So relaxing and the smell is 💯

I love the bath! It's similar to Mountain Fog (my fave!) and the tea smell is so aromatic along with the rest of the ingredients. Will always recommend as it's so relaxing

Inoki Bathhouse

4 months ago

Thank you Vivian!!! 🥰🥰🥰 So grateful for you.

Concerns

Sleep Challenges,

Sensitive to Smell,

Skin Sensitivity,

Joint Pain,

Muscle Pain

Pros of Inoki Experience

Improved Mental Well-Being,

Improved Emotional Well-Being,

Relieved Muscle Pain,

Relieved Joint Pain,

Softer Skin

Would Recommend to a Friend

Yes

Peak luxury

Absolutely outstanding. It smelled so delicate, but it filled the whole upstairs with the fragrance. It didn't bother my allergies or my sensitive skin, and I got three good steeps (progressively weaker, of course) out of the giant tea bag. It does leave a tea-colored ring, but it was easy to wipe off with a cellulose sponge, and it wasn't like it was a shock - it's tea, after all. It didn't detract from the experience. I will absolutely be purchasing this again.

Inoki Bathhouse

3 months ago

Thank you SO MUCH for this kind review, Shannon 😭💚🙇🏻‍♀️. I love that you got three good steeps in. Thank you for calling out the pros/cons of bathing in tea (the tea-colored ring) and your solution. I appreciate you so much. Thank you, again.

Would Recommend to a Friend

Yes

"Best gift ever" - my mom

Bought this for my mom as her Christmas present (she is a major bath lover). She just got around to using it and said it was the best gift she ever received!

Inoki Bathhouse

3 months ago

Thank you so so much, Julia!!!! I'm SO incredibly glad she liked it 🥹💚.

Concerns

Sleep Challenges,

Muscle Pain,

Joint Pain

Pros of Inoki Experience

Improved Mental Well-Being,

Improved Emotional Well-Being,

Improved Sleep Quality

Would Recommend to a Friend

Yes

Such a soothing bath experience

I loved the ancient rain forest bath tea so much. It opened up my senses and I definitely felt very relaxed afterward. I love the idea of a bath tea so much, this would make such a wonderful gift to someone, to promote self care.

Inoki Bathhouse

4 months ago

Thank you so incredibly much, Sheena 🥹💚

Pros of Inoki Experience

Improved Mental Well-Being

Would Recommend to a Friend

Yes

Genuinely Soothing

The blend smells very earthy and woodsy when you first open the package which can be a bit disconcerting or off-putting at first, but adding it to the hot bath brings out the scent of the hojicha tea, cinnamon, and mint notes which elevate the experience into something otherworldly. Truly lives up to the name of Ancient Forest.

I will add that this is a very dark bath tea which is likely to stain/leave some residue on the bathtub, so make sure to clean up afterwards

Inoki Bathhouse

4 months ago

Thank you so much for the feedback, Phebe 💚 So grateful for your take on this experience and so glad it lives up to the name. When I shut my eyes, I imagine myself in a dark, woody forest covered in aged trees and bright green moss.
Also super grateful for you calling out this advice. Completely agreed - this bath is definitely a dark one but soap and water always do the trick.
Reviews Loaded
Reviews Added