Global Bathing Experiences
Bathing has been tied to history and spirituality across the world for centuries. From the first bath ever discovered by historians in 3000 BC, The Great Bath of Mohenjo-daro by the Indus Valley Civilization, to the practice of holy bathing in the Egyptian Nile River or Indian Ganges River, different cultures have used baths to improve their mental, spiritual, and physical health. 
On social media, popular, exotic bathing experiences across the world, such as Balinese Flower Baths or the Icelandic Blue Lagoon, get the most attention. In fact, I highly recommend checking out this article, featuring the 10 Most Incredible Bathing Experiences in The World.
Yangpachen in Tibet, China: The highest altitude bathhouse in the world
Travelling in Canada
Last week, I spent 10 days travelling across the Canadian west coast and the rocky mountains. But, you already knew that, because I'm just one of thousands of international-travel deprived Canadians. This tweet made me laugh:
See the full thread here
During my trip, I discovered some breathtaking bath experiences that, in my humble opinion, do not get enough attention on the global bath stage! 
Here Are 5 Underrated Canadian Bathing Experiences:
1. Banff Hot Springs
The Banff Upper Hot Springs is a first-come, first-serve natural bathing experience in steamy, mineral rich waters with a spectacular view of the Canadian Rockies. In 1883, rail workers came across hot water and steam flowing from what is present day, Sulphur Mountain. The hot spring was discovered to be one of nine sulphurous hot springs in the area, but it is the last remaining springs open to the public!
Banff Upper Hot Springs is located in the heart of Banff Village, while the company hosts two other locations, Miette Hot Springs (near Jasper National Park in Calgary) and Radium Hot Springs (near Kootenay National Park in British Columbia). 
2. Willow Stream Spa at the Fairmont Banff Springs Hotel
When I originally walked into the magnificent Fairmont Banff Springs, I expected 5-star room service, a breathtaking view of the Canadian Rockies, and usual spa service (massages, facials, sauna, etc.). But what I was not expecting was a Turkish Hamam-Inspired Bath Experience and Eucalyptus Inhalation room,  amongst many of their luxurious and rejuvenating experiences.
Make sure to call ahead of time and research the specific services you'd want, as their Spa is quite popular. Their staff are very helpful if you call their reception.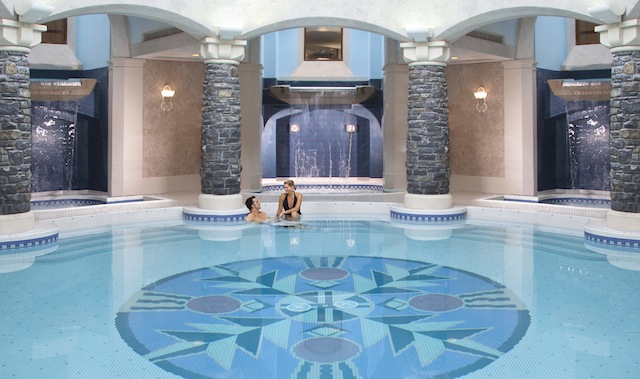 3. Go Place Spa
The Go-Place Spa is located in the suburbs of Toronto, Ontario. While a relatively new experience, the facility boasts various female and male jacuzzi bathhouses, themed saunas, facials, massages, snacks, drinks and more. The best part of the experience is that is it cost-friendly compared to most luxurious spas, with an adult admission price of $59.95. This is a great place to take your best friend, partner, or parent for a day full of relaxation and mindfulness. These are a few of their amenities:
Go Place Spa Amenities
4. Scandinave Spa
Scandinave Spa has won the hearts of many Canadians and international travellers, so if you've already heard of this one, feel free to move on in this list! In my opinion, a blog about Canadian bathing would be incomplete without mentioning them.
The design of each Scandinave spa is centred around native inspiration from its geographical setting. The spa boasts four locations across Canada - Whistler(British Columbia), Blue Mountain(Ontario), Mont Tremblant(Montreal), and Vieux Montreal(Montreal). I've travelled to the Mont Tremblant and Whistler locations so far, and my only concern is that I didn't stay longer! From cold Russian baths, to waterfalls, Finnish saunas, light therapy, and jacuzzis, they have it all.
The best part? No cell phones or talking is allowed. That's right - you're forced to be immersed in nature and experience bath therapy with nothing but real human connection and connection with self.
Finnish Sauna: Vieux-Montreal Scandinave Spa
5. Inoki Bathhouse
Inoki Bathhouse is a Canadian-based bath company changing the way people take baths at home. While the company does not host a traditional spa building or public bath, they offer a more affordable way to the bring the exotic bath experience home. The company sells Tea Bathhouse Kits made with premium, exotic herbs and flowers, alongside curated Spotify playlists for relaxation, candles, and loose leaf tea. 
Inoki Bathhouse strives to enable anyone to transform their bathroom into a sanctuary of mindfulness, peace, and relaxation. Founded by Helen Yin and her partner just six months ago, the concept blew up on TikTok globally. 
Purchase a premium at-home bathhouse experience from the comfort of your own home here.
 Garden Bathhouse, $40 USD